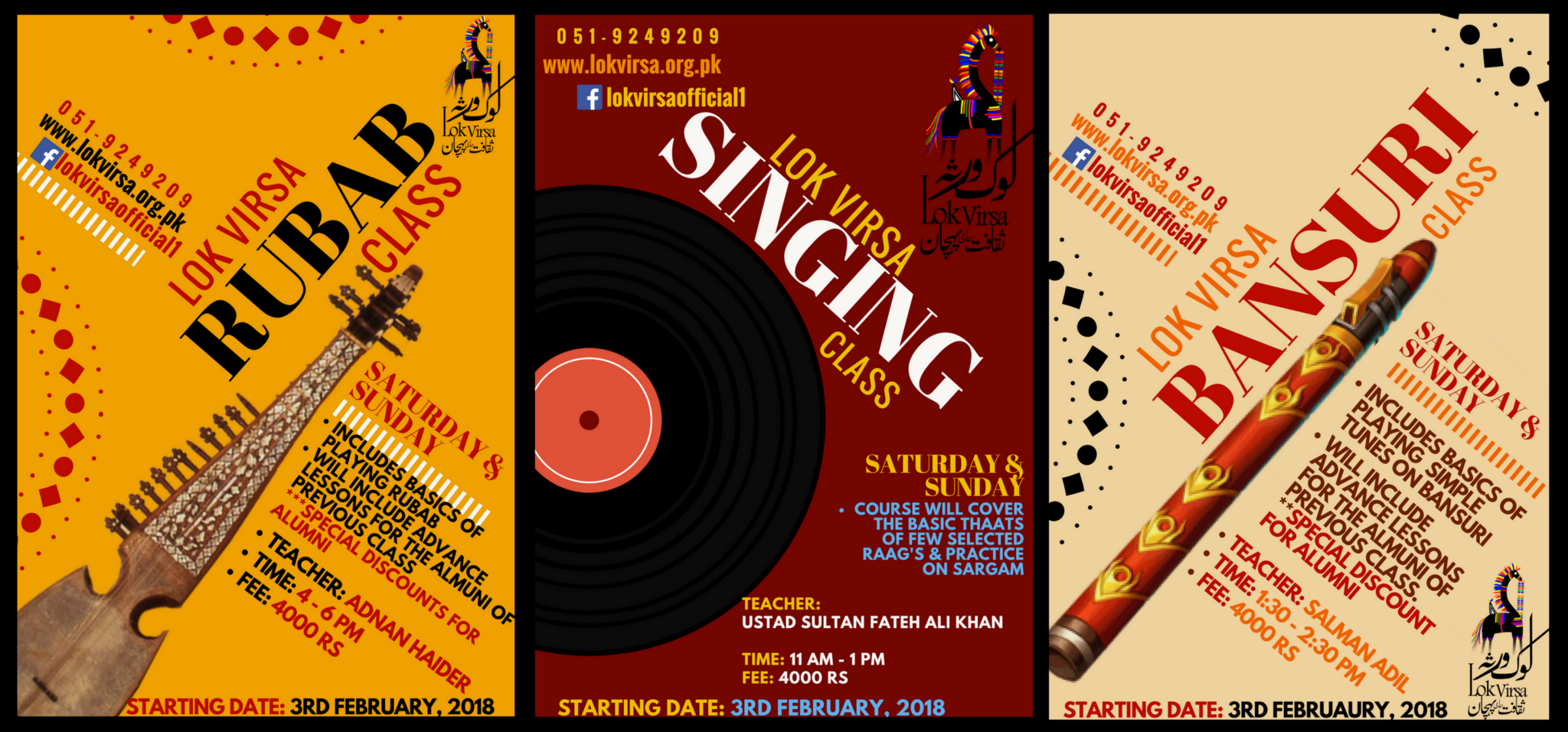 Dear All,
We are pleased to announce that a new batch of music classes will commence from 3rd February, 2018. In this batch we will be focusing on Singing, Flute and Rubab playing. These classes will take place on weekends with schedule as follows:
Singing Classes: Saturdays & Sundays, 11 am – 1 pm
Flute Classes: Saturdays & Sundays, 1.30 pm – 2.30 pm
Rubab Classes: Saturdays & Sundays, 4 pm – 6 pm
Meet our Teachers:
Singing (Classical and Light Music) – Ustaad Sultan Fateh Ali Khan:
Ustaad Sultan Fateh Ali Khan is the son of late Ustad Bade Fateh Ali Khan who was among the foremost Khayal vocalists of Pakistan and a leading exponent of Patiala Gharana. Ustad Fateh Ali Khan has been instrumental in keeping his father's legacy alive by passing on the knowledge of classical music to the new generation. He will be teaching light classical singing at Lok Virsa music classes.
Flute – Salman Adil:
Salman Adil has been practicing and teaching flute for several years. A master musician, Salman runs his own academy and is apt at teaching the basics, to advance skills of playing Flute tunes to first time learners, at a reasonable pace. He has taught all the previous students of Flute at Lok Virsa music classes.
Rubab – Adnan Haider:
Adnan Haider is a master Rabab player from Parachinar, Khurram Agency. He has learnt Rubab from Ustad Gulab Afridi and has been practicing this craftab for the past 12 years. Along with a command on Rubab, Adnan is also a sculptor. He is well-known for his renditions of Pashtu tunes and has performed on prestigious platforms in Pakistan and abroad. Adnan has taught all the previous batches of Rubab classes at Lok Virsa.
*******************
Please contact 051-9249209 for queries and registration. Please also pass on this information to prospective students who may benefit from this opportunity.
We look forward to welcome our next batch of music classes from February 2018 onward!
Regards,
Lok Virsa.