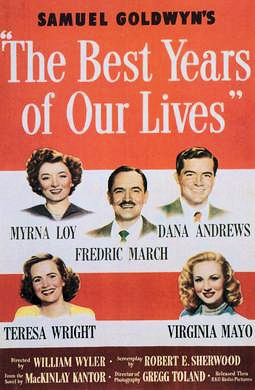 Dear All ,
It is time for international cinema at the Mandwa Film club.
Join us on Saturday 24th February, at 4pm for the screening of a Hollywood classic "The Best Years of Our Lives (1946)".
About the Film:
Directed by William Wyler and Produced by Samuel Goldwyn, "The Best Years of Our Lives" is a true Hollywood classic starring some of the greatest actors that Hollywood has known such as Fredric Marc,Teresa Wright, Harold Russel and Myrna Loy. It won seven Academy awards and remains the sixth best selling film of all times in the UK theaters.
When the film was released in 1946, the bloodiest war of the century had just ended and the survivors were coming home. They all returned with the same basic dream of putting the war behind them and getting back to life as usual, but the reality was different. For those whose primary skill was wielding a weapon, employment opportunities were scarce. Wives and children had become strangers. And women, who had entered the working force to earn for their families while men went to war away, had discovered a never-before kind of independence. "The Best Years of Our Lives" takes all of these factors into account. And, even though the film's social relevance has diminished after quarter of a century of it's release, its dramatic power and impact have not lessened.
Calling out to all fans of Hollywood, don't miss the opportunity to watch this great classic at the Mandwa film club. Join us on Saturday, 24th February, at 4 pm, at Media Centre.
Regards,
Lok Virsa.