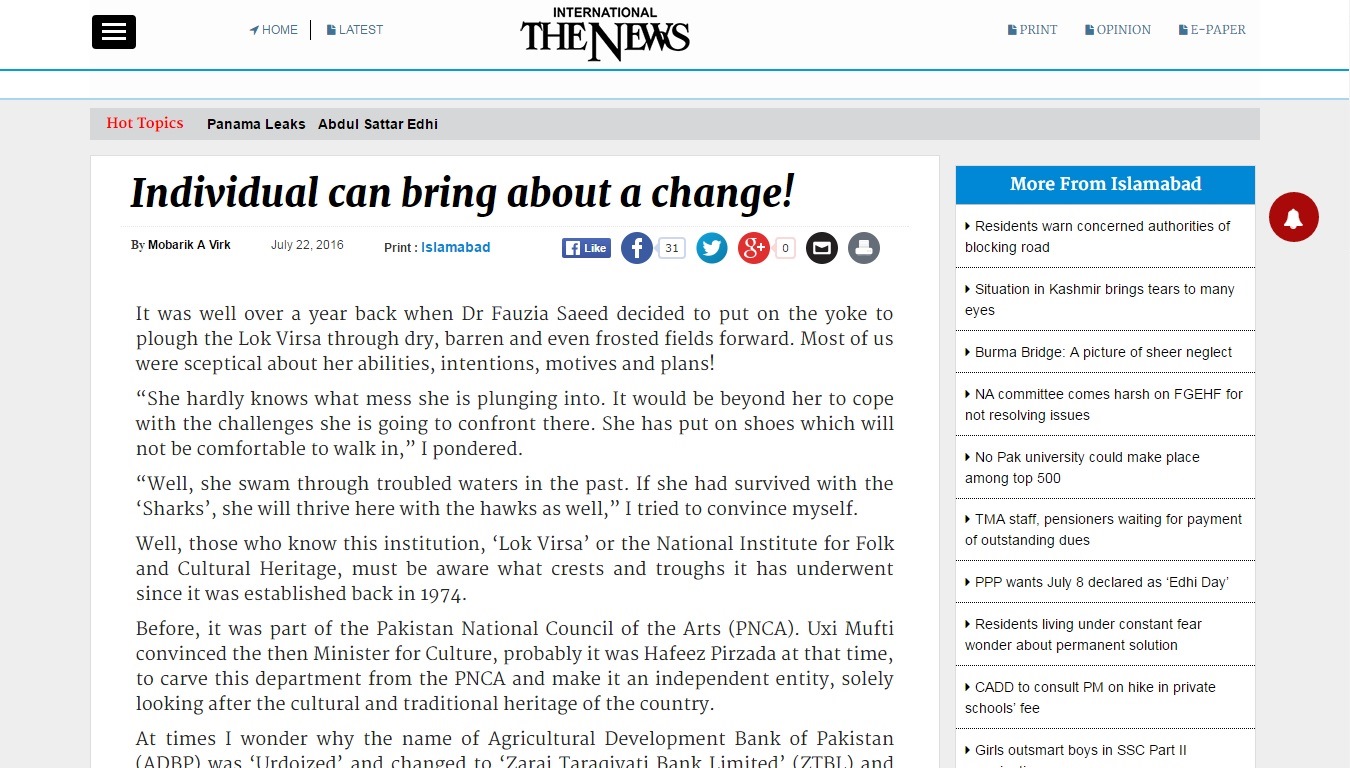 It was well over a year back when Dr Fauzia Saeed decided to put on the yoke to plough the Lok Virsa through dry, barren and even frosted fields forward. Most of us were sceptical about her abilities, intentions, motives and plans!
"She hardly knows what mess she is plunging into. It would be beyond her to cope with the challenges she is going to confront there. She has put on shoes which will not be comfortable to walk in," I pondered.
"Well, she swam through troubled waters in the past. If she had survived with the 'Sharks', she will thrive here with the hawks as well," I tried to convince myself.
Well, those who know this institution, 'Lok Virsa' or the National Institute for Folk and Cultural Heritage, must be aware what crests and troughs it has underwent since it was established back in 1974.
Before, it was part of the Pakistan National Council of the Arts (PNCA). Uxi Mufti convinced the then Minister for Culture, probably it was Hafeez Pirzada at that time, to carve this department from the PNCA and make it an independent entity, solely looking after the cultural and traditional heritage of the country.
At times I wonder why the name of Agricultural Development Bank of Pakistan (ADBP) was 'Urdoized' and changed to 'Zarai Taraqiyati Bank Limited' (ZTBL) and Lok Virsa was 'Englishcized' to National Institute for Folk and Cultural Heritage?
My apologies! I am drifting away from the topic. The age factor you know!
Well, when she accepted the offer to take over as the Executive Director of the 'Lok Virsa', Dr Fauzia Saeed promised that she was going to turn the things in the prestigious institution around and would bring back the glory in which once Lok Virsa basked couple of decades ago.
She has set herself a tough task to achieve. Working for some organization is different and running an organization is entirely different ball game. Especially if one has occupied the top slot and being considered an 'outsider' by those around you. ," said one.
But I would grudgingly admit that she has already made a difference. She has brought about a change. She has brought the colours back to the premises. We were provided opportunities to look as to what was the 'cinema' in Pakistan three or four decades ago and appreciate. Some extensive efforts are being made to revive the cinema in Pakistan now that it has been pulled out of the ventilator on which it had remained for such a long time.
Now we are getting frequent opportunities to listen to folk music, dances, drama, artisans working and bringing in their produces for sale, something which is encouraging them to keep some of the traditional arts and crafts, which were almost on the brink of extinction.
Last year when I had an opportunity to speak with her she promised that she would resume the work on efforts at documenting the rich cultural and traditional heritage of the country. I have not been to Lok Virsa lately but hope that she must had made the things stir up somewhere in the archive department of the entity as well!
I am sure her stay so far in Lok Virsa must not be an easy one, a smooth flight! She must have confronted some hostile hawks as well as a few expert hunters who would not have let go of an opportunity to dig their claws in her in mid air or shot her down!
Well, so far she seems to be doing fine and fending off whatever hostilities are coming her way. She may survive her tenure (this being a contractual assignment) and may also keep it moving in the right direction once she has almost put the institution back on the track.
But what would be the situation once she will leave? We have seen how the former Inspector-General, National Highways and Motorway Police (NH&MP), Zulfiqar Cheema revolutionised the force and how it is gradually started to slide back and we have also seen how the former Director-General Passports and Immigration, Sikander Sultan Raja transformed the Passport Office working all over the country and now that he has left, the department has once started experiencing operational hiccups!
So, here in our country, it is the individual who brings about a change! Once he or she leaves, the sunshine starts to fade away!
Official Link:
https://www.thenews.com.pk/print/136635-Individual-can-bring-about-a-change