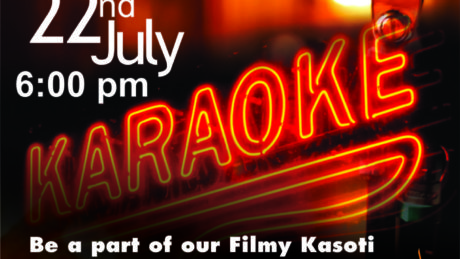 Dear All,
Our beloved Mandwa film club turns 2 this year!
For the last two years Mandwa has been screening local and international classic movies every Saturday. These free movie screenings are accompanied by movie trivia and celebrity guest appearances making Mandwa a great family entertainment spot within the twin cities.
Join us on 22nd July from 6pm to 8.30pm as we celebrate the anniversary with a musical evening. There will be Karaoke, filmi Kasoti (movies trivia) and potluck meal.
In addition, Madam Tarannum Naaz will be there to sing famous melodies from each decade of Pakistani cinema starting from the 50s,60s,70's, 80's and counting upto the latest tracks.
In keeping with Lok Virsa tradition, we plan on having a fun filled evening and you are warmly invited to join us along with family and friends.
The event will also be streamed live on our official website:
www.lokvirsa.org.pk
For details or any queries, kindly contact : 03339139313 (Ehtisham).
Regards,
Lok Virsa.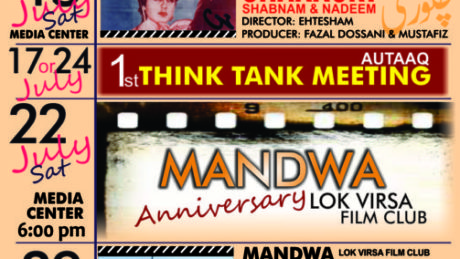 Dear All,
We are very pleased to announce an exciting schedule of events for July and August 2017. Take a look now and please mark the dates.

Lok Virsa.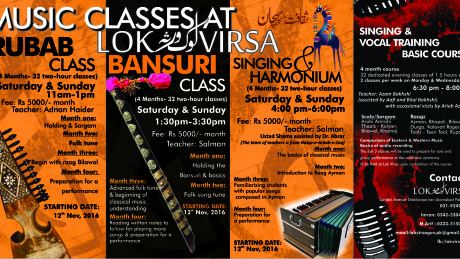 Dear All,
Lok Virsa in its effort to promote folk music and bring back the creative space to our community, Lok Virsa announces its music classes schedule. You are requested to be a part of this effort and take time out to learn an instrument or have your children learn a musical instrument. That will be the best gift you can give to your children.
Most of the classes will be a three-month course. Therefore, it is better to register from the beginning and go until the end. We will however be flexible in the first month to accommodate people.
For registrations and more details, please refer to the attached Ad or contact.
Phone: 051-9249213
Imran: 0342-5304418
Arif: 0333-5150952
Email: lokvirsagov.pk@gmail.com
Website: www.lokvirsa.org.pk
Regards,
Lok Virsa.