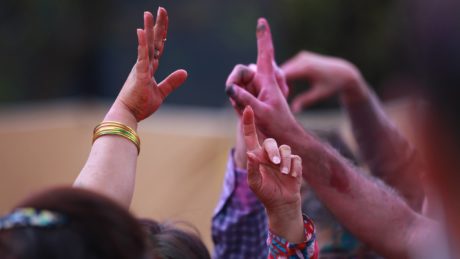 Don't sit calm because it's time to play with colors, share happiness and to make memories. The exuberant festival of colors is all set to welcome spring. Hindus celebrate this fun-filled festival in the month of March with religious/spiritual prayers, colors, dance, and music. The festival signifies the victory of good over evil and for many a festive day to meet others, play and laugh, forget and forgive, and repair ruptured relationships. In Pakistan, Hindu community celebrates Holi with full excitement with other communities join in to experience this colorful festival.
Lok Virsa organized this beautiful festival with the Hindu community on Sunday, 12th April. People of all religions and ages gathered and smeared each other with the seven colors rainbow. Executive Director, Dr. Fouzia Saeed welcomed the chief guest Dr. Ramesh Kumar, member of the National Assembly and the festival began with Dhamal and traditional sweets were served to all guests.
Let the colors of Holi spread the message of peace and happiness
Executive Director LokVirsa, Dr. Fouzia Saeed is congratulating the organizers of this festival
Some dances and traditional sweets
Dr. Ramesh Kumar is enjoying Dhamal
Executive Director LokVirsa Dr. Fouzia is splashing colors to her friend
Rang Barsay Bheegay Chunar Wali…. Ladies are enjoying the riots of color
Don't worry moms… Happiness of your kids is more important than stains
Dr. Bhisham Kotak is playing Djembe as Holi festival is incomplete without music
This colourful festival brings people together
Life is a journey but colors fill it with emotions, joy, love, happiness and much more. Lok Virsa's message is that Holi is not the celebration of only Hindu community but of all Pakistanis irrespective of their creed, color and religions. We respect all religions and make sure that space is provided to all communities to celebrate their respective festivals.