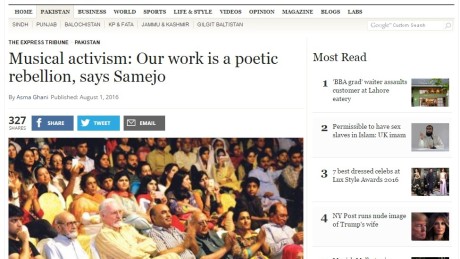 ISLAMABAD: Eyes closed, minds free from worldly troubles, swaying their heads to the rhythm, people nourished their souls with sufi music at the performance of a sufi-rock band – The Sketches.
The band launched its second album, "'Tu" (You), and performed some numbers from the new album at the Lok Virsa on Saturday night.
The album contains 13 songs, sung in Urdu, Sindhi, Saraiki, English, Hindi, Arabic and Marwari.
The inspiration of the songs is derived from shrine culture, which is why the album is sung in multiple languages, says Saif Samejo, the founder and lead vocalist of the band.
Foreign musicians such as Jono Manson, John Popper, Jason Crosby, Michael Handler, Peter Williams, Karina Wilson and Mark Clark have also collaborated with "the Sketches" in the album.
"Tu" is more of a sufi album, that benefits from the poetic masterpieces of Bulleh Shah, Ghulam Farid, Abdul Latif Bhittai, Sachal Sarmast, and Bhagat Kabir, though it also has some ballads and soft rock.
Samejo, who seeks to initiate social activism through his music, and describes the work of the band as a poetic rebellion says, "Everybody should play their part in spreading positivity. As musicians, we play ours by raising our voices through music, especially for minorities, as we [as a nation] have done them no good".
The band is praised for having brought music out from comfortable, air-conditioned rooms to the open skies of the desert, singing songs in the language of everyday people, in indigenous melodies, retaining their appeal. "We don't do commercial music," he says, "we only play what our hearts want".
Senators Gianchand and Sassui Palijo who also attended the event, have been fans of the band since 2001.
"Saif's music takes us to another world where the dogma of belief doesn't exist," said Sassui, while launching the album, adding that Sufi music was the greatest tool, with which to fight extremism and terrorism.
Upholding her assertion, the Lok Virsa Executive-Director, Dr Fouzia Saeed, said that there was a dire need for such creative expression to be developed in every household. The UN Resident Coordinator for Pakistan, Neil Buhne, said, "It was great to see the diverse nature of the north and south [of Pakistan] brought together."
"This message of peace and tolerance is not new, it's just a revival and a re-connecting of people with their roots, said Niaz Nadeem, the coordinator of Indus Cultural Forum (ICF), which organised the event.
Mai Dhai, who was discovered by the band and brought to mainstream media by the initiative of Lahooti Live Sessions, also features in the album. The platform, initiated by Samejo, has given voice to a multitude of indigenous artists and poets.
The band also performed "Jogi" (Ascetic) and "Mann Kunto Maula" (He of whoever I am the master, Ali is his master).
The lines from the last number "Ek Insaan" (A human) impressed upon the listeners, the duplicity prevalent at an individual level, translating to "I walk around pretending to be a holy man, while the vileness of my heart spills all around me, smearing even the clothes that I wear."
Published in The Express Tribune, August 1st, 2016.
Official Link:
http://tribune.com.pk/story/1153189/musical-activism-work-poetic-rebellion-says-samejo/